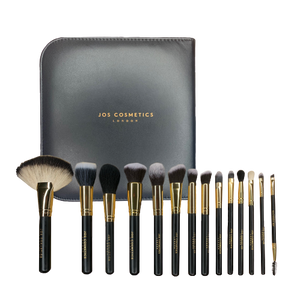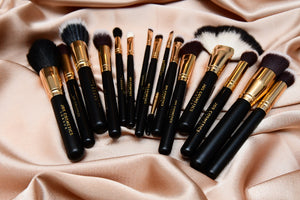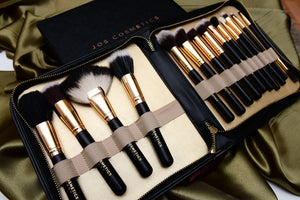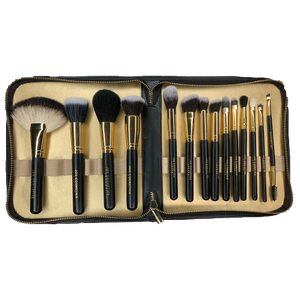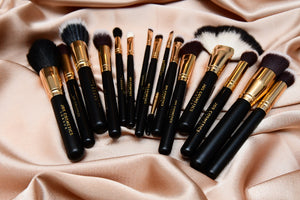 Our 14 piece high quality professional brush set is perfect for every make-up application, ranging from eyes to face. It has every step of your makeup routine covered. 
Whether your a beginner or pro, with bristles as soft as these your bound to achieve a smooth flawless finish.
Perfect for creams, liquids and powders.
Comes complete with a faux leather brush bag and a patent signature gift box. 

Set includes:
1. Buffer brush - used for applying liquid foundation and creams to give a full smooth airbrushed finish
2. Stippling brush - Perfect for applying foundation to give a medium smooth finish.
3. Tapered brush- Used for applying all powders including loose and pressed. 


4. Contour Brush- Apply to contours of cheeks to sculpt
5. Large Powder Brush- Perfect for powders and bronzers. Can also be used for body.
6. Eyeshadow brush- Used to apply and blend eyeshadows evenly.
7. Blending eye brush- Creates a seamless smooth blend of various eyeshadows 
8. Dual Ended angle brush- For grooming brows and creating sharp crisp eyeliner wings.


9. Large Shader Brush- Perfect for applying concealer and foundation in hard to react areas creating a soft smooth blend.
10. Mini luxe buffing brush- Ideal for blending out creams, liquids and powders for a smooth finish
11. Mini flat shader brush- Creates a clean cut crease, defines brows and great for packing on pigments and eyeshadow
12. Medium sized shader brush- Blends any creams and powders smoothly 
13. Mini luxe blending brush- Ideal for blending creams, powders and contour in small areas. 
14. Large fan brush- Perfect for applying powders to body, for dusting of excess powders and applying highlighter to face and décolletage.